Media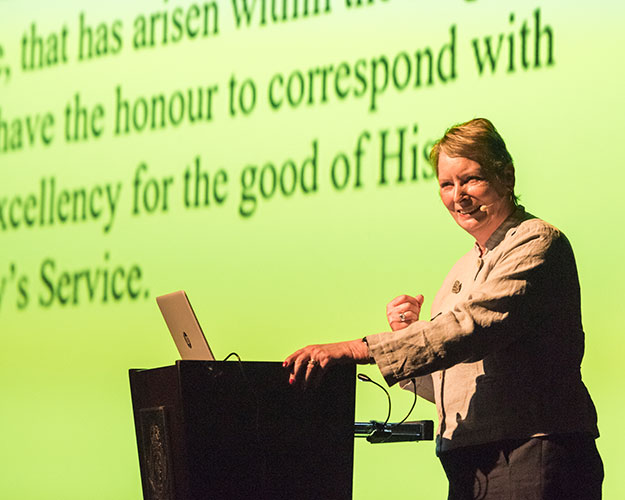 Helen Doe is a popular speaker at literary festivals, on cruise ships and as a contributor to radio and television programmes.
She has spoken at key international conferences, recently being invited to Kyoto to present a paper on marine insurance.
She is an accredited Arts Society lecturer and a regular speaker at the Fowey Festival
She advised on and appeared in the BBC1 programme 'Who Do You Think You Are?'. She was seen advising Cheryl on her maritime ancestors and their lives at sea and more recently with Jonnie Peacock who explored his ancestors in Liverpool.
https://www.youtube.com/watch?v=sZCNtz49rpw
Her maritime expertise has been used in programmes such as BBC Radio 4's Making History series on topics such as smuggling and wrecking. She was an advisor on David Dimbleby's BBC1 programme Britain and the Sea. She appeared on the acclaimed BBC 4 documentary The Box that Changed Britain and is a regular advisor on many other TV programmes.
In the video below, Helen discusses smuggling with Tony Robinson on his walk through Cornwall in the episode about 'A history of smuggling in 18th Century Cornwall' in the Channel 4 series Walking through History. (Helen's appearance starts at 32:07.)
She has also appeared in a Franco-German documentary on Daphne du Maurier which showed glorious drone footage of the Fowey estuary as we visited parts of the harbour and some of Daphne's favourite places from which she drew much inspiration.
In September 2019 Helen was interviewed for Channel 5 Documentary- Digging up Britain's Past. This required an early morning start at a local Cornish cove to discuss smuggling of spirits and the tasting of Navy Grog with well known archaeologist Alex Langlands. It was surprisingly palatable at 9.00 am in the morning.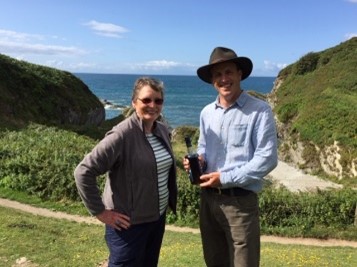 November 2020 Helen appeared as one of the experts on the Channel 5 documentary Brunel- Building Britain, due to be repeated in 2021.