Launch of 'Churchill's Few' by John Willis
Wednesday 10th June 2020
Today I will be interviewing John Willis about his book Churchill's Few. Robin Ellis, the actor best known for his part as the original Ross Poldark, will be reading extracts from the book.
The book is based on interviews with six men who fought in the Battle of Britain. My father, Bob Doe, is one of them. The others are another pilot officer who was very badly burned, a sergeant pilot, a Polish pilot, an intelligence officer and a Luftwaffe pilot. They each bring a different perspective to the Battle.
On-Line Maritime History Courses
Friday 8th May 2020
Here are some maritime history courses to enjoy. I am the tutor on two distance courses. The Lost World of the Sailing Ships: a look at the era of wooden sail in 19th century Britain, and Steaming Ahead : How steam ships developed during the 19th century and connected the world.
You can find them at Learnforpleasure.com
The courses do not require any examinations or essays so you can relax and enjoy finding out about the maritime past. They cover the ships, the trades, the masters and men, shipbuilders and engineers and a host of related occupations that were part of the shipping industry. We look at ports, both small and large, and the surprising number of maritime businesswomen. Shipowners, small investors, sailmakers, merchants, insurers and marine store dealers all appear.
SS Great Britain
Saturday 6th July 2019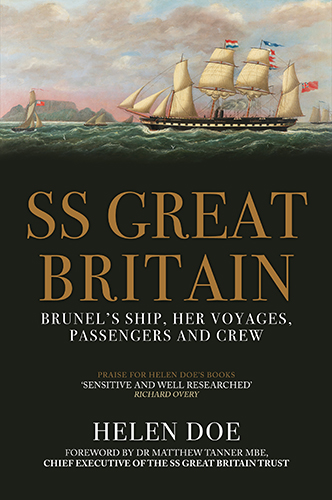 My latest book is about Brunel's masterpiece, the ss Great Britain.
This is the first newly researched book on her since the 1970s and uncovers many new stories of passengers and crew during her remarkable long life.
We are fortunate that this wonderful vessel is still here in Bristol today.
Indian Journey
Friday 15th February 2019
I am travelling to India this weekend to celebrate the 75th anniversary of 10 Squadron of the Indian Air Force. My father, Bob Doe, was their first commanding officer. I am delighted and honoured to be invited to Jodhpur .
When writing his biography, Fighter Pilot, I learnt so much about the WW2 campaign in India and Burma.
Brunel's Ships and Boats now out
Wednesday 17th October 2018
My latest book is now out. It takes a look at Brunel's lifelong interest in ships and boats. He drew sketches constantly and in his notebooks there are drawings of everything from a rowing boat to monster steamships.
So his three big ships, Great Western, Great Britain and Great Eastern are there, but also a humble steam dredger and a few others you may not have encountered. Thanks to the Brunel Institute at the SS Great Britain in Bristol, this book is very well illustrated with over 100 pictures. Several of my favourites are in there including the amazing photo of the Great Britain returning across the Atlantic on the salvage raft in 1970 with an RAF escort.