SS Great Britain
Saturday 6th July 2019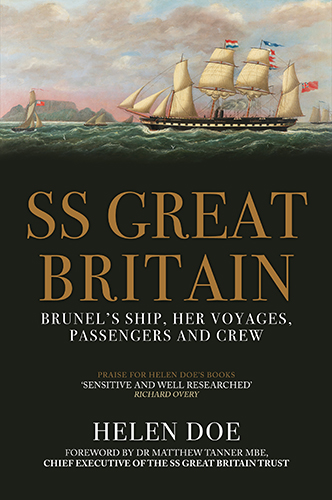 My latest book is about Brunel's masterpiece, the ss Great Britain.
This is the first newly researched book on her since the 1970s and uncovers many new stories of passengers and crew during her remarkable long life.
We are fortunate that this wonderful vessel is still here in Bristol today.
Indian Journey
Friday 15th February 2019
I am travelling to India this weekend to celebrate the 75th anniversary of 10 Squadron of the Indian Air Force. My father, Bob Doe, was their first commanding officer. I am delighted and honoured to be invited to Jodhpur .
When writing his biography, Fighter Pilot, I learnt so much about the WW2 campaign in India and Burma.
Brunel's Ships and Boats now out
Wednesday 17th October 2018
My latest book is now out. It takes a look at Brunel's lifelong interest in ships and boats. He drew sketches constantly and in his notebooks there are drawings of everything from a rowing boat to monster steamships.
So his three big ships, Great Western, Great Britain and Great Eastern are there, but also a humble steam dredger and a few others you may not have encountered. Thanks to the Brunel Institute at the SS Great Britain in Bristol, this book is very well illustrated with over 100 pictures. Several of my favourites are in there including the amazing photo of the Great Britain returning across the Atlantic on the salvage raft in 1970 with an RAF escort.
On my travels
Saturday 24th February 2018
Heading off this week to Brisbane to join the Cunard ship, Queen Elizabeth, as an onboard lecturer. I shall be joining the passengers on our way to Osaka. I have some wonderful stories to tell connected to that part of the world. Among them will be Brunel's Great Britain which took emigrants to Australia, early passengers in P&O steam ships across the Indian Ocean and the air war in the Far East in WW2. Plus the amazing journey of Mary Bryant, a Fowey girl who was transported to Australia but made an incredible escape to East Timor. I am almost following her route but in considerably more comfort.
Reviews of The First Atlantic Liner
Tuesday 16th January 2018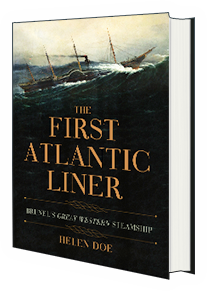 Positive reviews are coming in of The First Atlantic Liner. The reviewer in Shipping Today and Yesterday magazine writes 'This is an excellent book and I would very highly recommend it.' The magazine of the Worshipful Company of Master Mariners published a detailed review and described it as a 'well-researched maritime and social history'. While Nautilus, the magazine of the Seafarer Union, also wrote a detailed review and praised the vivid descriptions, human stories and the information on crew conditions onboard early steamships.