About Helen Doe
Helen Doe is a historian, author and speaker with a particular love of maritime subjects. It is people, often the ordinary and, sometimes unsung, heroes and heroines that attract her attention. She has written a range of books from maritime history to RAF history.
A popular speaker, Helen has spoken at several literary festivals and is a regular guest on cruise ships. She has appeared on television, most recently in an episode of Who Do You Think You Are? She has advised on many TV programmes including David Dimbleby's Britain and the Sea. Read more about Helen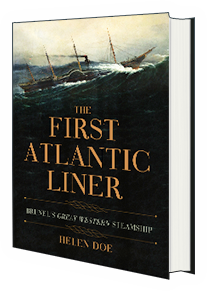 Positive reviews are coming in of The First Atlantic Liner. The reviewer in Shipping Today and Yesterday magazine writes 'This is an excellent book and I would very highly recommend it.' The magazine of the Worshipful Company of Master Mariners published a detailed review and described it as a 'well-researched maritime and social history'. While Nautilus, the magazine of the Seafarer Union, also wrote a detailed review and praised the vivid descriptions, human stories and the information on crew conditions onboard early steamships.