Blog archive
Fighter pilot now in paperback
Friday 15th July 2016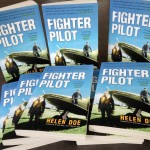 I am thrilled to see that Amberley have just released the paper back version of Fighter Pilot: The RAF career of Battle of Britain Ace, Bob Doe.
Paperback edition
Maritime History book wins award
Thursday 23rd July 2015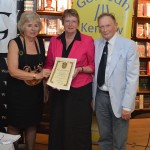 The Maritime History of Cornwall won the non fiction award ( marine and industrial heritage category) at the Holyer an Gof awards on 14th July. Here are Alston Kennerley and myself being presented with the award by Maureen Fuller, Grand Bard of the Cornish Gorseth. It was a major project, involving many people and taking many years so it is wonderful to get this recognition on everyone's behalf.
Grand Bard presenting award to Helen Doe and Alston Kennerley
Fighter Pilot is now published
Tuesday 2nd June 2015
The book is now out and thank you to those who have already sent me some kind comments. I now have a Facebook page where I am posting additional material to accompany the book. These include a few photographs and some short audio clips. The diary is getting busy as I shall be at the Flying Legends Air show at Duxford on 11th July to sign my book ( courtesy of the Aviation Bookshop) and then at the Battle of Britain Memorial at Capel Le Ferne on 12th July. This is always a moving occasion.
Fighter Pilot
Sunday 29th March 2015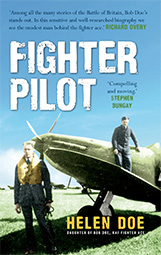 The book is now available for pre ordering via Amazon or Amberley Books. Both sites are offering pre publication discounts.
The cover looks great
Fighter Pilot - New Book
Saturday 13th December 2014
My manuscript is now with Amberley Books. This biography of my father, Wing Commander Bob Doe , was a fascinating task. I learned so much about him and the men with whom he served. My admiration continues to grow as I discover more about so many 'ordinary' people who did extra-ordinary things in war time. I shall be continuing my research in this area. Meanwhile I am looking forward to the publication – sometime in May 2015 I understand.